As an attempt at a manifesto of making, each week I will make a film/work about the alone.
This project ran for 15 weeks in the end part of 2015.
1. the guest, the resident
An encounter with the possum that has made a nest in my bathroom cupboard. Filmed with night vision, I was careful not to intrude too much on its home.
2. the legend of creepy face
The story of appearance of a mysterious mask from the manhole in my apartment building.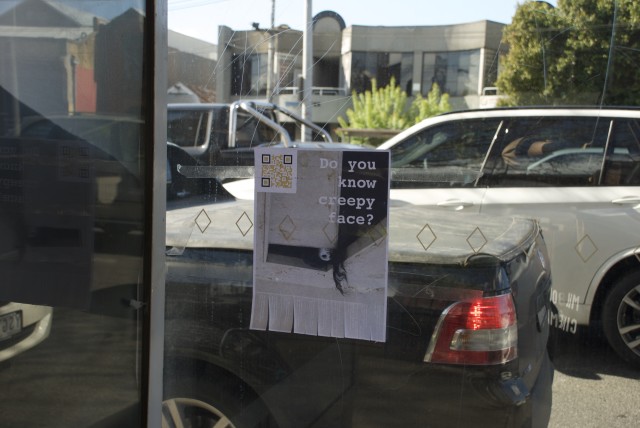 As an attempt to engage public participation, I've taken quite the old school approach of the the poster/flyer with the tear-off sections. The QR Code connects to the tumblr which invites participation via questions or posts.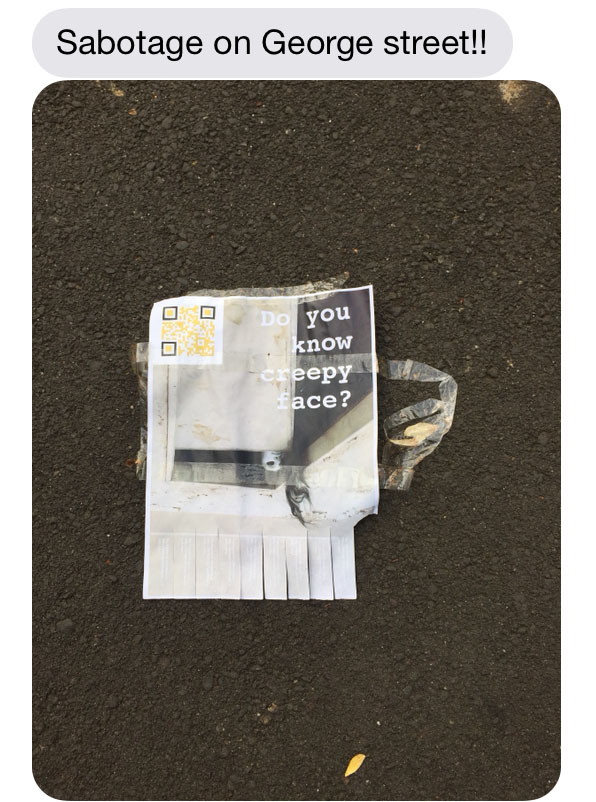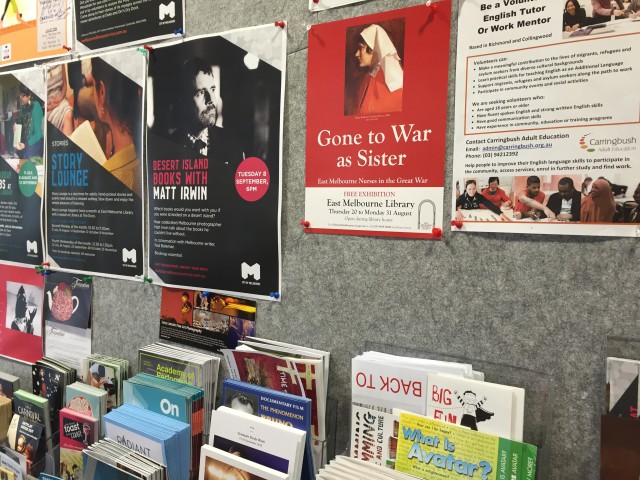 A few days later, a friend sent me these pictures. I am convinced it was the poor quality of the tape, rather than flagrant disregard for my quest. At least one of the paper sections had been torn off. Creepy face had also disappeared from the library.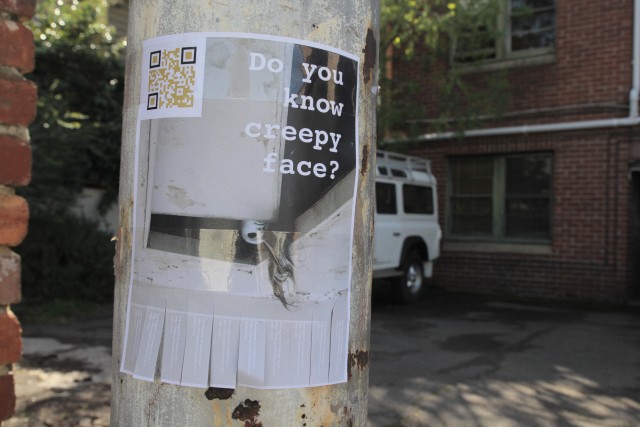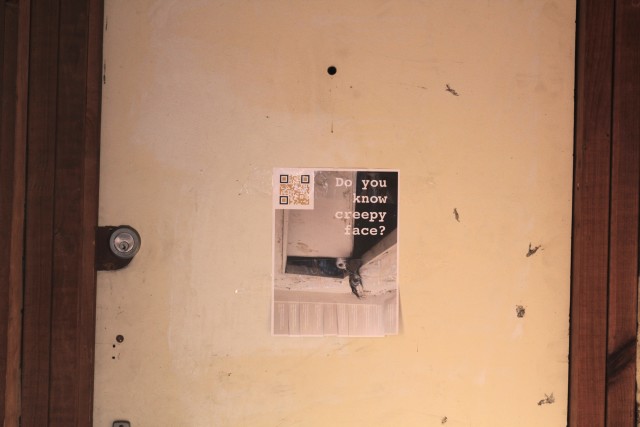 More postings closer to home but still no answers.
3. and the lights
Usually I would ride my bike when going out at night but as it was raining, I decided to walk. On the way home, I noticed the reflections on the road and the street lights. Looking up into the rain, I took these photographs. I recently came across the word 'phoneur', a portmanteau of phone and flaneur, or someone that wanders and takes photos as they happen upon them.
4. alone zine
For this week's project, I made a zine. I called it alone some thoughts on, it doesn't make sense grammatically. It is an experiment or prototype, and while I think some parts work well, including the aesthetics, I think it needs to be a bit more specific. Other ideas to extend on this include further expanding the taxonomy of 'alone' with each edition focusing on an element of aloneness. Possible future ideas include: birds, landscapes, recipes/cooking for one, found photos, music/songs, eating out, hotel rooms. Calls for submissions could be made, with contributions included. But then again, maybe this one is enough.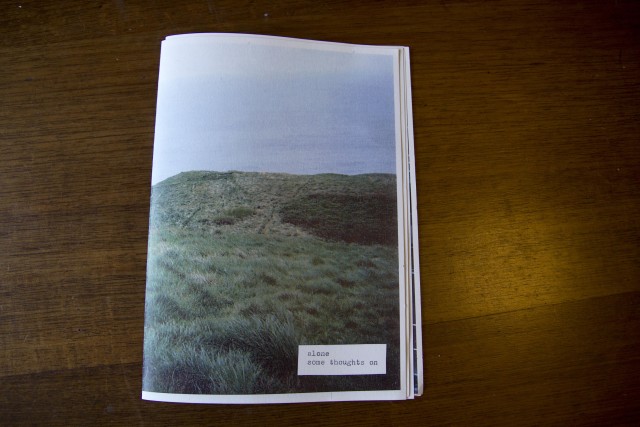 5. mating calls
A testing of ideas using examples of  how people use the word 'alone' in their dating profiles. The footage is taken in a rockpool at the beach and sounds recorded at Point Nepean.  This is part of an ongoing fascination I have with the language used in dating profiles, what is revealed, what is concealed and what is performed.
6. Pink Palace Memorial 
As a homage to my home of the last 9 years and 2 months, I held a Pink Palace party which pink cocktails, iced-vovos, and cheese cubes and pickles. In line with the theme of aloneness, and as a way to test collective aloneness we played the solitary game of BINGO and moved on to a music quiz with songs about being alone (too many to choose from), although this was allowed to be done in groups (alone together). This was a scaled down version of the original idea for an event that my friend and I had. And as it turned out that it coincided with my moving date, I thought it was fitting to have a smaller event in my apartment. I also delivered a non-definitive Powerpoint eulogy – giving a brief overview of my time living here, including some statistics (11 workplaces, 1 vacuum cleaner I won on a TV quiz show).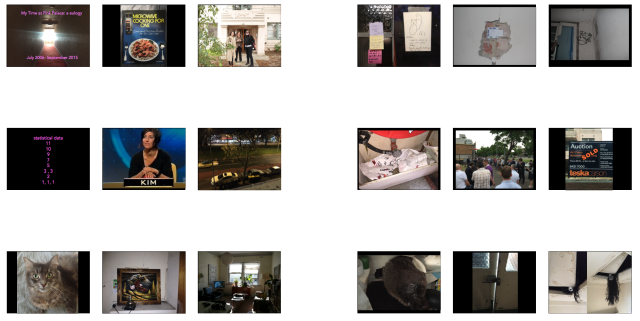 I've also been working on a memorial zine which I was going to hand out at the party but haven't quite finished. This includes art of the Pink Palace, communication styles (notes left around here and there and images through time).
7. Some of the Things
As possibly my last installation of works inspired by my domestic space, I have attempted to list all the events that came to mind that occured while living there from June 18, 2006- September 21, 2015. These include politrical, global, local and personal. This is a list, in no particular order. The footage is of me walking through the flat for the last time after all my possessions had been removed and the cleaning had been done. Once empty, I was actually a bit surprised how little attachment I felt to it, and how ready I was to leave it.
 8. Instructional alone photograph task, no. 1
For the this week's task, I have asked my friend, who is travelling in Japan with her partner, to do a photographic project on aloneness. I have tried to make the photo prompts free enough for individual interpretation and also constrained enough to give a certain amount of guidance. The feedback was that the categories were good but could be perhaps even broader, and also that one category could be explored for a whole week. These could be variations for future participatory experiments.
Project for Jenelle in Japan
·

     
Take at least 1 photograph each day for 1 week.
·

     
You can choose which one you do on each day.
·

     
Write a caption, of any length to accompany these photographs.
·

     
Some of these are when you are alone, some are not.
·

     
If you want to change any of these, feel free
·

     
Ask me any questions or feel free to interpret- these are a little testing of this activity.
·

     
Thanks, I appreciate your assistance.
·

     
These will be posted online after a week (you can be credited by name or anonymously)
Images (there are 9, but you can choose 7 if you like)
·

     
The back of a person who looks alone
·

     
A time when you have consciously chosen to be alone
·

     
An object or image that represents aloneness
·

     
A vista of aloneness
·

     
Something sold to offset the feeling of aloneness
·

     
A time when you wish you could really be alone
·

     
A window to aloneness
·

     
A lonely photograph
The results (image & text by Jenelle O'Callaghan):
9. travelling alone material collection kit
As an extension on the previous week's task and also in reference to the idea of the cultural probe (Gaver, Dunne, Pacenti 1999), I have made this kit for my partner's trip to New York and the east coast of the USA. In the hope that it's not too arduous to work on a project for 25 days, I included a range of different activities and prompts for the collection of material on 'alone'. I also acknowledge an obvious bias in any material collected, but this is not exactly a scientific project anyway, so I don't think it matters too much. Upon completion, I shall observe the responses and reflections and also gather feedback on worked well, was enjoyable and what could be amended or ditched for next time.
The kit contains the following materials & activities:
hand-made instruction booklet
camera: with a list of photo prompts on the back, the rest are free choice (extra details can be added in the journal)
a map: which covers the eastern, northern, western and southernmost points that she will travel
coloured dot stickers: each colour should be assigned a descriptor of aloneness and these will be placed on the map corresponding to each night spent in each location and the associated feelings
journal: with spaces for location information of each night, written entries or to act as a scrap book
glue: for pasting ephemera in the scrapbook
coloured pens
'alone project' bag and zip-lock folder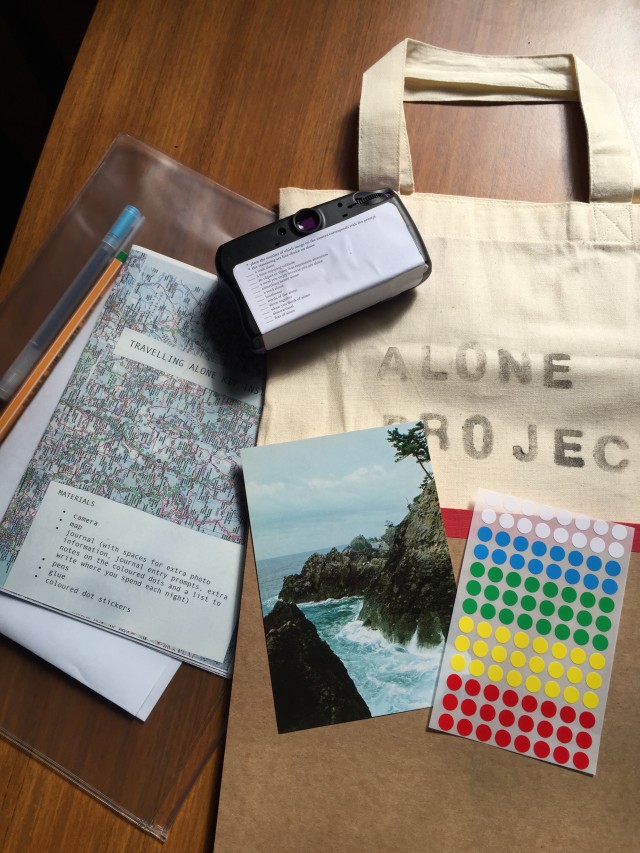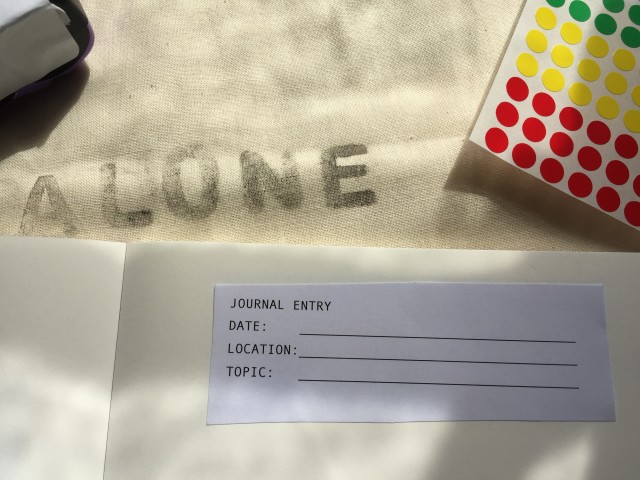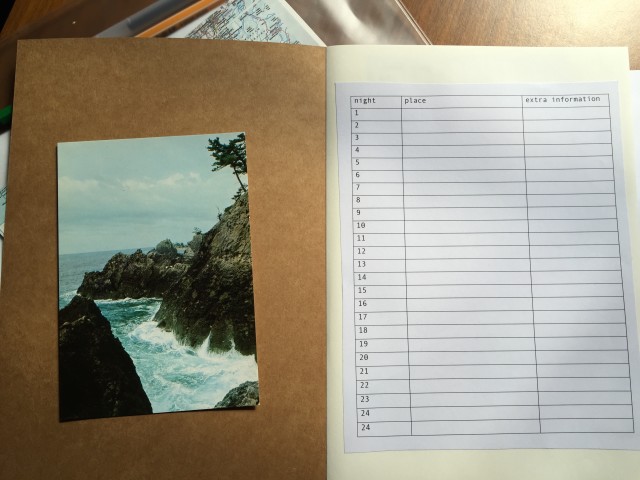 10. LONELY ANTS
This week's project comes to you courtesy of some found donuts and ants. I had found a recent study about lonely ants. The words are taken from the first few lines of an article on the abc.com.au website. While these ants seem content on the donut, we might call this a cautionary tale.
In case you missed the lyrics, they are: lonely ants die young and hungry/unable to digest properly/walk themselves to early deaths/a study has found. 
Perhaps the banal musical treatment can be applied to other projects as a way of transforming the original content.
11. Invitations
This week I've attempted to test some more participatory methods, combined with some insights I've gained from an online course in social practice: The Art of the MOOC. Displacement or recontextualising objects or actions is one of their central tenets of public art. So this project attempts to fulfill two goals- experimenting with participation and also placing objects in contexts that might cause some kind of disruption or surprise.
I'm not sure how much of an intervention this week's project is or how much participation it will elicit, but it did make me think about the 'framing of request'. Using DIY invitations with a pearl finish, I hand wrote the notes, giving a link to my more specific website projectalone.com and also a seperate phone number (alone hotline?), as well as providing 2 images of aloneness and some questions for people to respond to. I will continue to place these invitations here and there and see what develops. I am wondering if the request is too passive, or the invitation looks like marketing. Would just a handwritten note be more effective? Do other people pick them up and keep them like I do? Anyway, the website and phone number will all be useful for larger projects down the line.
The invitation among the cats is an ode to Gabriel Orozco's Cat in Jungle, an excellent example of displacement.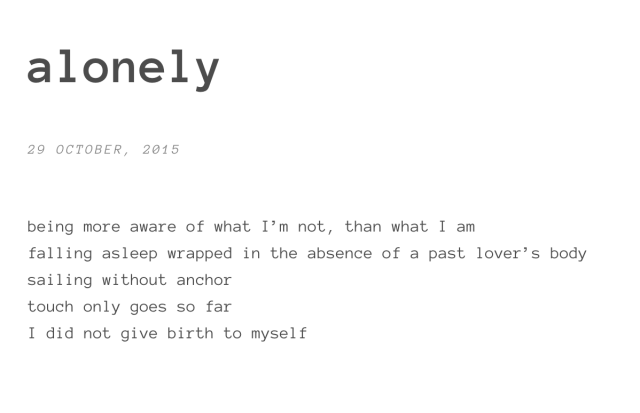 So far there has been only 1 submission. I did only place around 7 of these cards around. Perhaps this will not be a successful way of eliciting responses.
12. Interactive Lighthouses
So, this week's project isn't really a finished project but a beginning. Using a combination of photos of lighthouses, found footage, true stories and literature, I've began to make an interactive documentary in Klynt. This is an off-the-shelf interactive program, which may not be too difficult to use but takes time to learn. You also have to have a good sense of what it is about, where it is going, as well as the added possibilities afforded by the interactive and multi-linear nature. So while this is a beginning, it might also take a while to finish. I also need to gather more media assets and materials, which may mean going out and filming soon!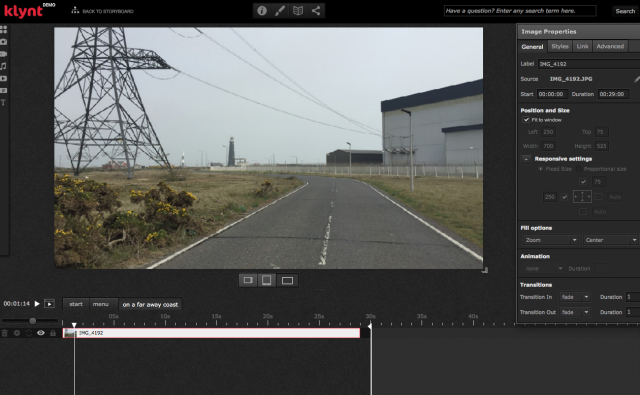 13. Alonedia
This week I have continued working with Klynt to try to make an interactive documentary about landscapes and aloneness, called Alonedia. This project is an attempt to make a typology of aloneness. I have incorporated some of the lighthouse material from last week into this in the section called the sea, where uses have a choice between danger and safety. This is only the beginning of a project, realising that I actually need a lot of material and planning, with a strong understanding of user experience.
The challenge with this software is how to make it engaging and what functions and interactivity will make this project something people will be interested in staying with.
The video is low quality… just a sketch of some of the sections and visuals.
14. Images from travelling alone
I collected the material from the cultural probe pack (week 9). Something strange happened to the film, where most of the images are a mass of colour with light trails and scratches. I guess this highlights the limitations of the film/disposable camera. Some of them are actually quite beautiful, and with drawings, the interpretative map and other miscellany and ephemera can be representational of the trip.
I might need to streamline the process for recording the information- or maybe not that much data needs to be collected in terms of the descriptions. The addition of this information does make for more usable material though.
images & words by Kristen Tytler
15. When I am, feel or think alone, I see…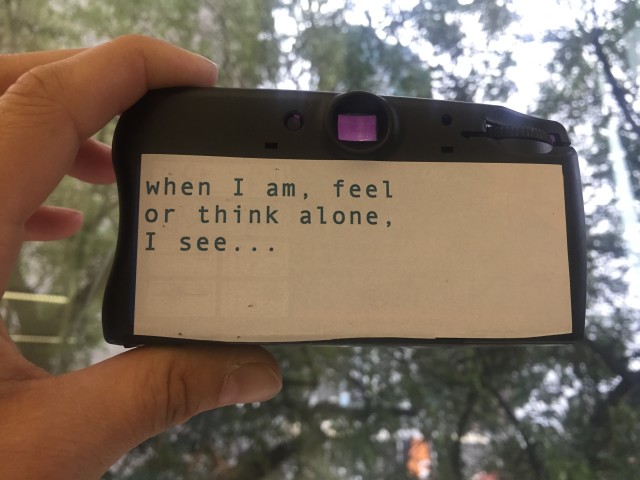 A few weeks I gave this camera to Smiljana Glisovic. It was prompted by a conversation we had had about some of the projects I was doing. She asked if the idea was to get people t photograph what they saw every time they thought of 'alone'. After thinking about it, I thought I would ask her if she was interested in photographing this idea.
She told me that she enjoyed spending a lot of time alone. She also told me that her interpretations would be of a positive sense of the alone. I said that was good, that was the project.
When I showed Smiljana the images, the idiosyncrasies of the disposable camera were again revealed as she was surprised with both absent and mysteriously present photographs.
images by Smiljana Glisovic